Coronavirus
This page is updated as often as possible. (last updated 23.07.2021)
NHS COVID-19 vaccination programme update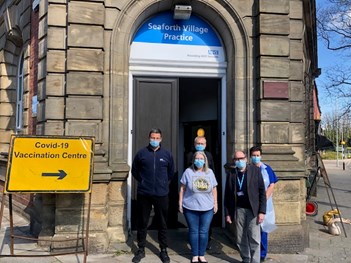 Seaforth Village Surgery will be open for walk-ins or appointments Tuesday – Saturday from 10am to 6.30pm. If people do want to book they can call 07979 938 229 or call us and we can book for you.
They are delighted to be opening up the surgery as a vaccination site for our residents. They ran a short pilot in April when more than 240 people booked appointments for a jab and this was hugely successful.  They are making it even easier this time so anyone over the age of 18 can walk in at their own leisure or book an appointment to be vaccinated if they prefer.
For the most up to date COVID information, click the link below.
Public Health England - COVID Information
Please be patient when calling the surgery
We are getting more phone calls during this time and the staff at Eastview are working extremely hard to deal with all your queries. It may take longer than normal to answer your call.
We ask that during this time you use the general queries line as sparingly as possible and call only at certain times:
Emergency appointments call after 8.30am or 1.00pm
For blood results - Call after 2pm
Thank you for your understanding.
Due to the national spread of Coronavirus (COVID-19), we have postponed all routine appointments, reviews, checks and bloods.
If you think you need an appointment, please call and you will be called back and triaged by a clinical member of staff.
We are still here to help you.
Medication requests over the phone: 

We are no longer taking medication requests over the phone unless you are housebound or the GP has agreed to accept medication requests in this way. Did you know you can sign up to patient online services, order your medication online and view parts of your medical record? Visit our 

Patient Online Services page for further information. If you are identified as Clinically extremely vulnerable you should follow the government guidance. For medication you should ask friends or relatives to help you organise this or look at local volunteer services. Click here for more information.
Telephone 08:00am - 6:30pm

 

(Our telephone lines may be busier than usual but your call will be answered as soon as possible).
E-Consult  You can complete an electronic consultation via this service and will be quicker than trying to telephone us - to access this service visit the home page of our practice website.
GP Online Services

 

(You can order your repeat medication via this service and view parts of your medical record). Please Note we are no longer taking medication requests via telephone. This is to prevent the phone lines being busier than normal. For more information visit our Patient Online Services page.
GP Appointments

 

(All of our GP's are still working - instead of face to face consultations our GP's are offering telephone triage appointments. some of your consultations may be done via video for example symptoms of a rash). If a GP does offer you a face to face appointment you 

must wear a face mask/face covering.

Nurse Appointments (Both of our Practice Nurses are still working - Some of these appointments are being offered face to face, on the basis a patient is showing no signs of COVID-19. 

 If you are offered a face to face appointment you must wear a face mask/face covering.